Individual Ticket (Thursday, Friday or Saturday)
SHAPES FESTIVAL LEYSIN 2023, Leysin.
30.03.2023

Melé - Mount Liberation Unlimited live - Norsicaa - Miche
31.03.2023
Teki Latex - Crackazat live - Lefto - Elisa Bee
01.04.2023
Marcellus Pittman - Ahadadream - Alma Negra live - Andy Lemay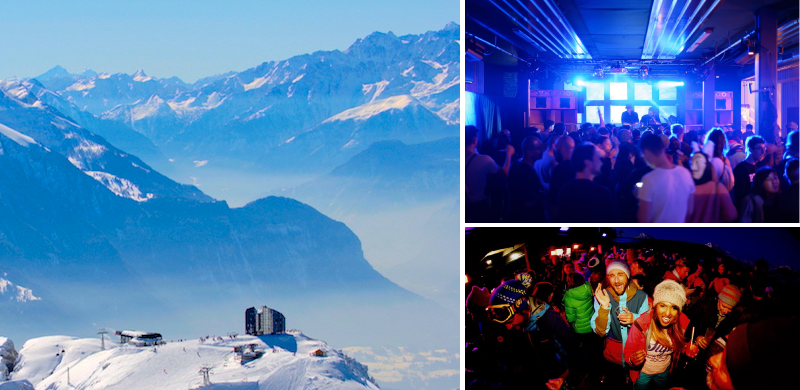 More information about Individual Ticket (Thursday, Friday or Saturday) tickets
Shapes Festival Leysin 2023
From March 27 to April 2, 2023, the laid-back and friendly Swiss ski resort of Leysin will once again vibrate day and night. So here's what's happening: DJs during the day on the slopes, followed by après-ski parties down at the bottom, and to finish off with clubbing & live music at night. Without forgetting our unique Sunset party at Kuklos at 2200m, where you will be able to party and enjoy the best panoramic views in the Alps, making it one of the highest clubbing experiences in Europe. Make sure you don't miss this disco dream!
We will be offering quality and audacious programming to bring you that unique SHAPES experience in full, showcasing the latest musical trends and many new exciting artists.
Shapes is pushing the boundaries of quality music and original party vibes, so expect the best club culture and festival experience in Leysin from March 27 to April 02 2023!
Stay tuned for more info on the line-up.
WE ARE BACK !
From March 27 to April 2, 2023, the laid-back and friendly Swiss ski resort of Leysin will once again vibrate day and night. So here's what's happening: DJs during the day on the slopes, followed by après-ski parties down at the bottom, and to finish off with clubbing & live music at night in a brand new venue created specially for the festival. Without forgetting our unique Sunset Party at the incredible Kuklos at 2200m, where you will be able to party and enjoy the best panoramic views in the Alps, making it one of the highest clubbing experiences in Europe. Make sure you don't miss this disco dream!
We have some unbeatable ski + festival pass deals

There is also a "Festival Pass only" available for those of you who may already have a Magic Pass or for any of the non-skiers.
Our 3* Hotel packages including breakfast + dinner + ski + festival pass + sunset party are amazing value too!
----------
After delivering such an amazing set at our summer edition in Zakynthos we had to bring Marcellus Pittman to Leysin! The Detroit legend has crafted a music repertoire many would be jealous of. Disco, future-beats, hip-hop, and house are the main ingredients that transform the dancefloor into a soulful and energetic experience. He's regarded as one of the greats and a huge influence in defining Detroit's sound.
Paris'king of blends' Teki Latex joins us in Leysin! The retired rapper - who got his start as a founding member of seminal Parisian hip-hop MC group TTC - has come up as one of France's best-loved DJs in the years following, specialising in bass-heavy beats from grime to UK garage, club bangers to jungle belters. Once a hip-hop connoisseur, Teki Latex now puts his efforts into fast-tempo sonics.

Legendary crate-digger and archivist Jannis Stürtz aka Habibi Funk touches down in Leysin. Champion of all things Arab and retro, Jannis Stürz (aka Habibi Funk) delivers incredible mixes with a selection of the funkiest, grooviest Arab music you'll find anywhere before him. Habibi Funk DJ sets jump between rare 45 inch records from the Arab diaspora, with heavy flavours of hip-hop, disco, funk and more.
Renowned for powering the dancefloor with octane dynamism, we are so thrilled to bring Melé, an artist who fully warrants his current status as a revered selector and producer. Boasting a particular niche sound that utilises a mesh of world music influenced house, transatlantic hip hop, broader UK sounds and classic Chicago grooves, he is gaining worldwide recognition by the minute.

Leysin is in for a treat with DJ & producer Ahadadream, one of the leaders of a new vanguard of party starters who will bring his pan-global underground sound with that certain London energy. He represents percussive club sounds from around the world and draws influence from UK Funky, GQOM, Kuduro, Amapiano and beyond. His own productions are unapologetic stripped back club weapons and his ?drum dubs' edit series are a regular feature at parties around the world.

Shapes Festival will also vibrate to the unique disco & funk sounds of Mount Liberation Unlimited. As far as deviant disco duos go, there are few as fierce as Mount Liberation Unlimited. The Swedish duo have championed a new wave of funk and soul which draws upon elements of classic disco from days gone by with influences from clubs and raves. Featuring live instrumentation and delicate Swedish vocals, the duo have reimagined a sound from a distant age in which the dancefloor was king and the moves the focus.

Also on the bill, Italian DJ & producer, Elisa Bee, is well established in the world of music and techno. For the last 15 years Elisa has gone from strength to strength and through her productions and DJ sets she explores many musical genres. Slamming house, techno, acid and electro, Elisa Bee is fascinated by the sounds of the past as she is by the experimental and quirky waves shaping the future of music.
Welcoming Crackazat, the multi-Instrumentalist and electronic producer, emerging on the international scene, he has quickly become recognised for his unique fusion of Jazz and House music. When it comes to his live shows, Crackazat sets the bar high, having started out with supporting sets for Bonobo and Floating points. His glorious keyboard solos, funky bass guitar, and general infectious grooviness are winning him crowds across the planet.

More info on the line-up
http://shapesfestival.ch/